French Version
About Us
At Dominion Tile, we pride ourselves on being all about SELECTION, SERVICE and SATISFACTION.
Founded over four decades ago by the late Domenico di Domenico, Dominion Tile has been a leader
in providing high quality Italian and Spanish tiles to New Brunswick and the Maritimes.
Having grown over the years, this family-owned business is now run by Mr. di Domenico's daughter,
Franca di Domenico, whose passion and inspiration is reflected in every square foot of Dominion Tile's
new showroom and shared by each team member's attentive and personalized approach to customer
service and satisfaction.
With over 25 employees dedicated to helping homeowners, contractors, designers and architects
achieve the perfect look for their residential or commercial projects, we invite you to join our thousands
of satisfied customers and experience the Dominion Tile promise:
A state-of-the-art showroom, an outstanding selection of ceramic and porcelain tiles in all price
ranges that are in stock and immediately available, as well as qualified designers who can answer
your questions and provide advice on every aspect of your project, big or small!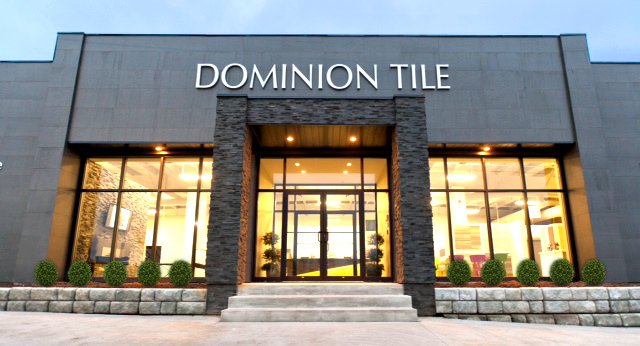 English Version
Chez Dominion Tile, nous sommes fiers d'offrir le meilleur en matière de SÉLECTION, de SERVICE et de SATISFACTION.
Fondée il y a plus de quatre décennies par le regretté Domenico di Domenico, Dominion Tile s'est taillée
une réputation de leader dans la distribution de céramiques italiennes et espagnoles de haute qualité à
travers le Nouveau Brunswick et les Maritimes.
N'ayant cessé de croitre au fil des ans, cette entreprise familiale est maintenant gérée par la fille de M. di Domenico,
Franca di Domenico. Sa passion et ses inspirations imprègnent chaque pied carré de la nouvelle salle de montre
de Dominion Tile et se manifestent dans l'approche attentionnée et personnalisée de chaque membre de l'équipe
lorsqu'il s'agit du service et de la satisfaction de la clientèle.
Avec plus de 25 employés dévoués à aider les propriétaires, les entrepreneurs, les designers et les architectes à
réaliser avec succès leurs projets résidentiels et commerciaux, nous vous invitons à vous joindre à nos milliers de
clients satisfaits et vivre l'expérience Dominion Tile :
Une salle de montre ultramoderne, une sélection de revêtements de céramique et de porcelaine dans toutes
les catégories de prix qui sont en inventaire et disponibles immédiatement, ainsi que des designers qualifiés
qui pourront répondre à vos questions et vous conseiller sur chaque aspect de votre projet, petit ou grand!